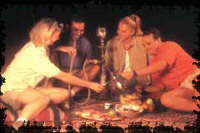 The adventure takes you to a personal experience of a ride through the sand dances of various colors and heights.Adding to this experience of relaxing under the starlit sky is a mouth-watching barbeque dinner,which includes continental & Arabic dishes,which will be served.
Coupled with a belly dancer to ignire you appertite.
After the night encounter with the silence of the desert the sunrise awakens you & breakfast is served before you will have a refreshing splash in the natural rock polls to the mountain.